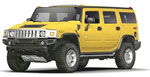 A Tampa Bay church is giving away a 2003 H2 Hummer. People had a chance to register during 2004 at The River at Tampa Bay Church and those eligible included first-time visitors, members who brought first-time visitors, Bible students, and those who filled out a survey. Other prizes included a scooter and a Play Station, all to be awarded during the church's Winter Campmeeting which runs this week.

Reactions have varied from supportive:
"It's a great idea. Ingenious," said Randy Brummit, pastor of Brandon Assembly of God with about 400 members. "If I could give away a car a week, we would."

"It's a bait on the hook to get people in to hear the message," said Randy White, televangelist and senior pastor of the 18,000-member Without Walls International Church. "What would Jesus do?" asked White, pausing to recite a Bible text from John 14. "If you live right, you get a mansion. That's a pretty good incentive. It's better than a Hummer."
To critical:
"I think Hummers are morally questionable," said Marc S. Sack, rabbi for Congregation Rodeph Sholom. "At a time when Americans think about conserving energy resources, I don't think we should be encouraging or celebrating a vehicle that is the ultimate gas guzzler."

University of South Florida religious studies instructor Dell deChant pointed to a Bible verse that warns Christians "to be in the world not of it. Critics would say [giving away a Hummer] is a little too much of the world."
What do you think?