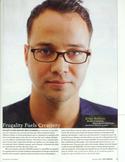 In the December 2004 issue of Fast Company magazine, staff writer Ryan Underwood does a "Fast Talk" with Zean Nielsen, director of marketing for Bang & Olufsen America, the way-too-expensive for me store with gadgets way-too-cool for me.
Zean (pronounced Shawn) is from Denmark. He was recruited by a marketing group that used some major filtering criteria (eight hours of exams, IQ tests, English and Math placement, etc.) before making a recommendation to B&O. Zean got the job. He was 23 years old.
Two years later, at age 25, B&O would recruit him to lead the way in opening 60 stores in the Unites States and Canada. Zean is now 26 years old and 43 of the 60 stores are already up and running.
John A. Byrne, editor of Fast Company, was so impressed he wrote this in his editor's column in the same issue: "The fact that [Zean has] been given such responsibility so young says a lot about Bang & Olufsen. It is an organization that encourages and supports creativity, a flat and lean company where young, talented people are empowered to make a difference."
What would happen if pastors appointed a young adult in their twenties (inside the church) to lead a creative team made up of individuals inside and outside the church? This team could meet regularly and dream up new ways to reach the community, enfranchise the disenfranchised, and build loyalty. The team would be fully empowered to function within the context set out by senior leadership.
I can only imagine what would happen in our churches…