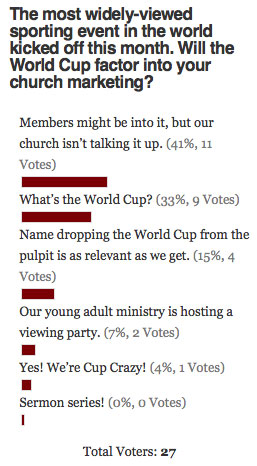 Sadly for this author, in the World Cup, the USA is no more. With their exit, stateside interest has waned. Around the world, however, the beautiful game is still going strong. We're interested to know what your churches are doing to leverage this worldwide, once-every-four-years event.
Only 4% of you are going cup crazy. You're hosting watching parties, preaching soccer sermons and giving free soccer balls to first-time attenders. And another 7% are going cup crazy, too, but only for youth and young adults. You're doing viewing parties, but they're usually only for those young enough to care.
A few more, 15%, of your churches are name-dropping the World Cup from the pulpit, but not much more. You want folks to know you don't have your head in the sand, but this whole soccer thing is tough to get into.
Next up are the biggest groups of you. 41% are aware that it's happening and know some members might have caught soccer fever, but you're not tailoring your marketing to it in any way. And another 33% are wondering what a World Cup is and why we're talking about it. For you, Wikipedia might be a good place to start.
This week, we'll turn our focus to pool parties and warmer temperatures as we ask: How would you describe your church's summer marketing strategy? Visit our home page to let your voice be heard.