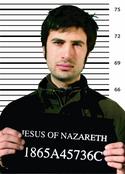 Easter is the one day out of the year when people who never go to church actually think about going. What are you doing to make sure people pick your church?
Ben Bell shared this design for an Easter card for St. Stephen's Church in London (you may remember Ben's Christmas card). The back reads:
jesus on trial

despised? rejected? betrayed? let down? traumatised? friendless? innocent? son of god?
(link via Knightopia)
Meanwhile Jesse Bennett-Chamberlain e-mailed us these designs for past Easter ads for Lakemount Worship Centre in Ontario, Canada.
It's nice to see something other than grassy fields and sunrises.